There was a moment in time, many years ago, when I have once tried Omegle. (One of the many ridiculously hilarious results of boredom, everyone.) And I had the wonderful chance of meeting this 13-year-old energetic girl from UK who recommended this novel to me. I read the blurb and placed it in my TBR list. It took me long to finally decide to read it. But when I did, I'm sure glad I listened to her.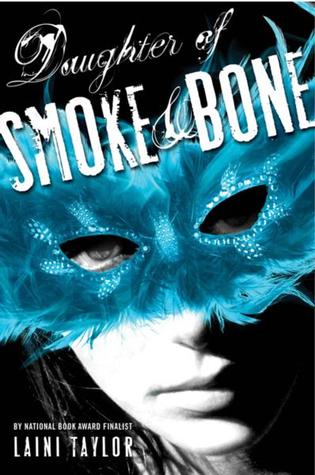 Daughter of Smoke and Bone is about mysterious Karou. She's a young art student in Prague who fills her sketchbooks with monsters that may or may not be real, suddenly disappears on errands and sometimes comes back with malaria, and her blue hair actually grows out of her head that color. Who is she? No one really know–not even herself. And another thing that enigmatic Karou doesn't know is her apparent place in the middle of a war that's been around for decades.
Let me tell you right now, I've read tons of paranormal romance novels and the angel-and-devil love story is not new to me. But Daughter of Smoke & Bone did really well. The story was exquisitely unique and excellently crafted. I absolutely loved the characters, especially Karou and her best friend Zuzana. Their easy banter was enjoyable. Then there's the world-building. It was absolutely fresh–this idea of a world of half-human, half-beast creatures with their own ways of life and wishes as an equivalent for our money.
The first half of the story came onto me like this endless wave of pure freshness. The concept and the plot started out that great. However, the second half did not have as much impact. Imagine yourself riding in a roller coaster that's going up the trails at maximum speed, building your anticipation and excitement higher and higher. Then, when it reached the peak, it fell at a short slope and it was all flat rail tracks from there. In other words: I had my expectations at the start of the book and I was not satisfied.
For one thing, that match-made-in-heaven bit with the beautiful Karou and the equally beautiful Akiva just seemed bland to me. They were described to be so perfect that you just know that they're going to get together. And then there's that bit about Karou's identity. Not going to give out spoilers here to those who haven't read the book yet so just know that the big reveal was not something I really liked. There were flashbacks in the second half of the book and they were too dragging for me that I actually skipped a page or two. I know that those parts ( were important to the greater scheme of the plot but they weren't something I enjoyed reading.
Overall, this novel was truly a wonderful reading experience to me. It basically revived my faith and appeal in Young Adult novels. I have finished reading the accompanying novella that tells the story of Karou's best friend Zuzana–whose love story I preferred among the two. I'm currently reading the second book now and I'm hoping the sequels would turn out equally great if not better. (And dang it, I still have to read UnEnchanted's sequel as well as Dragonfly in Amber. Must read fast.)
3/5