You know how when you are separated from the love of your life for, I don't know, weeks due to his business travel or (to those overly lovestruck teenage couples out there) an hour and freaking half going to your English class and he's attending his History class next door? And you just think that weeks seem like forever?
Yeah, I don't know about that. I mean, the heck if I know whether teen couples actually do those things. (No, wait…Really,they do that?) But I do get the feeling. For one thing, the love of my life has a different kind of soul. And no, the love of my life is not a ghost or even a chimaera whose soul can be gleaned and resurrected. The love of my life is a book and the stories hidden underneath its covers–whether it may be leather-bound, hardcover or paperback. Speaking of chimaeras, let's get on with the review.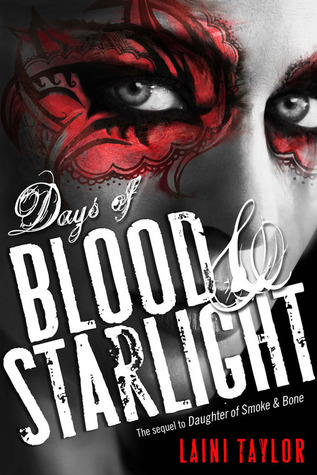 Karou, the art student and monster's apprentice, finally has the answers to the questions boggling her. She is who-and what-she is. And along with this knowledge is something even more heartbreaking: she loved the enemy and her people paid for it. Karou will do whatever it takes to avenge her people, even her pain to build a monstrous army. While Akiva will wage anything for something else. Redemption. Hope.
Days of Blood & Starlight is a stunning sequel and is most likely my favorite installment of the series, novella not included. Because if the novella was included, my favorite would be the novella–point blank. We are introduced to new characters and there are now more points-of-view included. But what really amazed me was how the tone of the story drastically changed. It was like getting through that portal at the end of the first book and entering a new world–a grim and devastated world. And it. Was. Beautiful.
All the innocence and lighthearted atmosphere of Daughter of Smoke & Bone just fell away for the gripping and dark tone that a place gets being shell-shocked after tasting its share of war. We have Karou who is now living her life as a hollowed being in shame and guilt and filled with derision and cynic thoughts. And we also have Akiva who is given his own chance at development, away from his cutesy love team with Karou.
And the story is mainly about losing something you love and the grief and forgiveness that all comes along with it; through war or even accident. There were so many high moments. Moments when you can actually feel the author lecturing you like a preacher doing his sermon. I bask in those moments. (Though not as much as I would after I madethe preaching and everyone was stunned).
And because of the overall heaviness of the story, Zuzana and Mik's entrance into the story gets even more emphasized. I've always enjoyed reading about Zuzana. She is my most favorite character in the series and I loved her even more in this sequel.
Overall, Days of Blood & Starlight was an amazing book to read. It may have come off as dragging sometimes, but it makes up for its gritty-enough-for-a-Teen-Romance-novel content. Laini Taylor has indeed woven, in my opinion, a greater sequel than what I have hoped for. I've already skimmed through Dreams of Gods & Monsters (because I can't just wait for one whole month to know what happened anymore) and I'll be rereading it in detail after Finals.
4/5