There have been so much disappointments in my recent reads. (i.e., Dorothy Must Die and Such A Rush) Thankfully, Laini Taylor's ingenuity could offset any disappointment I have on other YA books and I've already read this novel twice now.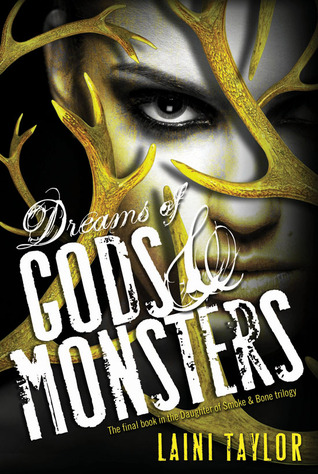 Dreams of Gods & Monsters is the third book of the Daughter of Smoke & Bone trilogy centered around Karou, an art student in Prague who is now more than just an art student, and Akiva, a Misbegotten who fell in love with the enemy. Standing on either sides of a time-old war, the two have reunited for a common cause and a common enemy: Get rid of Jael from the human world. In this epic conclusion, Karou, Akiva and the rest of their allies struggle towards a new way of living where peace and love might be possible at last.
This novel was…probably not the best conclusion that I could conjure for this series (except I don't have a great writing skill). But it was great.
I really love how Laini Taylor handled the soulmates/resurrection trope in this series and the soulmate trope in particular really shines in this novel (thanks to Liraz and Ziri). The slow conclusion of the series would have been better if not for the sudden problems that Karou and Akiva encounters.
And that's another problem that I have. Karou and Akiva never seems to get together. The first few times, it's heart-breaking but the closer to the end it happens, the more annoyed I could get. Like, "Come on, let them be together already!!!" Other than that, I was completely okay with the rest of the characters. In short, the supporting characters were more awesome for me–again.
Zuzana and Mik are two brightly-lit fireflies amidst a swarm of dimming ones. And their comedic effect isn't the only thing that causes them to outshine the main characters sometimes. It's the energy and their easy-going personalities that makes them so loved. Liraz and Ziri were another two characters that I like in this novel. They were both intense and unyielding in their own ways but when it comes to the subject of the heart, they are both so innocent and awkward it makes me want to hug them both.
My problem with the conclusion as I mentioned earlier was that it felt like it's been handed to me in increments. Try to imagine a motor sputtering smoke in intervals while you are trying to start the engine up. It's unsatisfying. The way everything was tied together felt hurried and too easy. Most of the characters have suffered a lot during the first and second books, particularly during the second, but it felt as if their wins are all handed on them in a silver platter.
Still, it was a great novel to read and an equally great conclusion to a great series. The recurring theme in the entire series hasn't even faded out in this novel. And that is having hope even in times and places when it's so hard to find one. The purple prose that's ever abundant in this novel was used well and painted such a beautiful picture on the story. Laini Taylor's fantastical writing style certainly added to the magical air that's surrounded in this book and in the entire series. It's one of the things that I liked most about this series.
Overall, Dreams of Gods & Monsters may not have exceeded my love for Days of Blood & Starlight but it was a compelling read on its own and drew the story into a good enough end.
4/5
---
Here are my reviews for the other books in this series: