Okay, so today, I'll be reviewing a book by an author I obviously don't talk too much on this blog because I obviously haven't read or talked about his previous works ever. So here it is.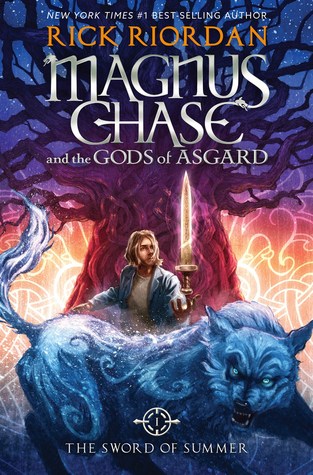 Sword of Summer is the first installment in a series that revolves around Magnus Chase, a troubled kid who lived alone on the streets of Boston after the death of his mother. One day a strange man came to him and told him that he's the son of a Norse god. And when an attack by fire giants forces him to choose between his own safety and the lives of hundreds of innocents, Magnus makes a fatal decision. Sometimes, the only way to start a new life is to die
No question, Sword of Summer was a very enjoyable read. I just loved diving into the world that was created by Rick Riordan. He really has a knack for making his characters real and relatable and, in my opinion, that was definitely the strongest suit of this novel.
Blitz and Hearth were the most unexpected supporting characters and it hasn't been long but I've seen shippers of the two of them around the Internet already. And like anything that has Rick's fingerprints, the gods and giants were given this contemporary personalities to go along with their century-old background–especially Thor and Odin. Also, for those of you who were expecting a cool Loki, you'll have him. Just…probably not the cool you were expecting.
Magnus, on the other hand, was being compared hugely to Percy Jackson. A lot pointed out how Magnus is as snarky as Percy was and that there weren't anything new about Magnus. It seems so unfair to deem Magnus as a second version of Percy just because he is also snarky. At least one character in any of Uncle Rick's series is snarky.
Maybe it's just me but I find that Magnus has his own thing going on. His snarkiness is partly because of the jaded life that he experienced after the loss of his mother–an occurrence that ultimately forged Magnus's character into what he has become. Though, I'll have to admit that he or the other characters I mentioned above are not my favorite characters in this book. That goes to Jack and Otis.
And while I stand on what I said about Magnus, I agree with the other negative point which mentioned that this plot is a tried and tested formula already used by Riordan. The very basic outline of the plot is the same as that of Lightning Thief. There were moments when I can't help but think, "This is just like that scene in Lightning Thief". Those were accompanied by the thought that maybe Rick Riordan is running out of tricks in his sleeves. It's kinda sad to think so but every authors have their own downturns. Maybe this is Rick's.
Nevertheless, I still extremely enjoyed reading Sword of Summer. It was packed with hilarity and comic reliefs as well as action-packed adventures. Rick Riordan certainly introduced me to not only one but nine new worlds. I just hope that there's something unexpected that we're going to find in the sequel which, in true Riordan style, we'll have to wait for until around this time next year.
3.5/5