Remember those times when I post two or more book reviews in a month? Sighs. Man, it's been long since, huh? So anyway, I was given a copy by the author himself in exchange for an honest review. Thank you, Mr. Meredith!
---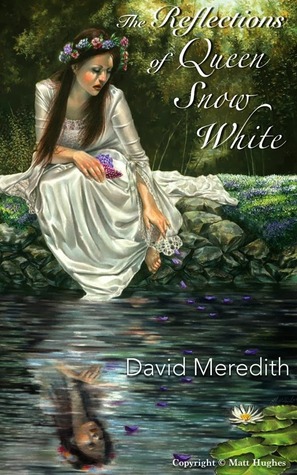 The Reflections of Queen Snow White by David Meredith
Published on: 2 October 2013
Published by: David Meredith
ASIN: B00FLF4JAG
Pages: 155
Genre: Fantasy, Fairy Tale
Add it on: Goodreads
Buy it on: Amazon (Kindle)
What happens when "happily ever after" has come and gone?
On the eve of her only daughter, Princess Raven's wedding, an aging Snow White finds it impossible to share in the joyous spirit of the occasion. The ceremony itself promises to be the most glamorous social event of the decade. Things could not be better, in fact, except for one thing: The king is dead.
The queen has been in a moribund state of hopeless depression for over a year with no end in sight. It is only when, in a fit of bitter despair, she seeks solitude in the vastness of her own sprawling castle and climbs a long disused and forgotten tower stair that she comes face to face with herself in the very same magic mirror used by her stepmother of old.
It promises her respite in its shimmering depths, but can Snow White trust a device that was so precious to a woman who sought to cause her such irreparable harm? Can she confront the demons of her own difficult past to discover a better future for herself and her family? And finally, can she release her soul-crushing grief and suffocating loneliness to once again discover what "happily ever after" really means?
---
First off all, I'm not calling this a retelling because it is not. It's more like an "After Happily Ever After" novella. The story started out with a sorrowful atmosphere…actually, it stayed that way for most of the novella. With that said, I want to tackle the things I didn't like in this novella first.
I felt like the ending was rushed and it didn't really give me satisfaction. Especially when almost two-thirds of the book showed Snow White as this…completely unlikable character you find hard to feel empathetic to.
Because of Once Upon A Time, my view on Snow White turned 360 degrees from that young lady singing her wishes to a well and talking to doves (pigeons?) and into this badass princess who doesn't give a rat's ass to anyone. The Snow White you'll see in this novella is more of the former plus an ounce of puberty hormones and teen angst.
I could totally understand the aged Queen Snow White in the outer story who was grieving the passing of her dear husband (who's awesome but we'll get to that later) but the Snow White of the past? She's too mopey for my taste. And I never liked that kind of female character. This one's more tolerable than some because, understandably, she was jaded and scarred–physically and emotionally–at a very young age. Still, with that kind of character, I expected that she'll grow mature more gradually and not just suddenly. Like her attitude transformation was a bucket of cold water thrown on you.
Now onto the awesome Prince Charming. May I just say that it's funny because I like Snow more than Charming in OUAT. But here, it's the opposite. Prince Charming isn't entirely your typical charismatic knight-in-shining armor, much as Snow White here would insist. He has a big heart and very gallant but also vulnerable. The perfect combination for a likable male character, in my opinion.
There was a part in the story where Charming showed his vulnerability and it tugged my heartstrings. Now that was a good scene. It was two in the morning and I was talking to my e-Reader, reprimanding Snow White like "Look what you did to him! You're so awful!"
Another thing that I liked about this novella was the transition between scenes. The hawks in the beginning was a nice touch and that ascent to the tower was too beautiful to imagine.
Overall, The Reflections of Queen Snow White will tell you that the dead are reminders to those who are still alive to keep on living. And that you can grieve the past and hope for a better future at the same time. It's a good, short read and the author's style of writing is a breath of fresh air if you've been reading more of the modern retelling of fairy tales kind.