Heya! For those who don't know it yet, I will now post everything bookish (book reviews, bookish discussions, fan rants) on Tuesdays! 🙂 This is the first of many.
---
I'll Give You The Sun by Jandy Nelson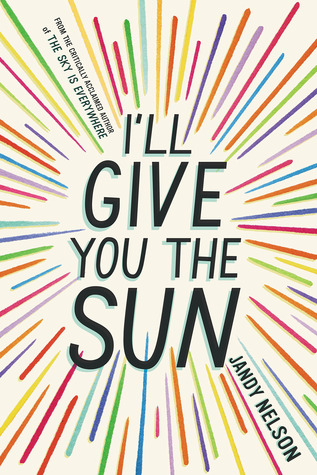 Published on: 16 September 2014
Published by: Dial Books
ISBN: 0803734964
Pages: 371
Genre: Young Adult, Contemporary
Add it on: Goodreads
Buy it on: Amazon | Book Depository
Favorite quote: "Maybe a person is just made up of a lot of people. Maybe we're accumulating all these new selves all the time."
Jude and her twin brother, Noah, are incredibly close. At thirteen, isolated Noah draws constantly and is falling in love with the charismatic boy next door, while daredevil Jude cliff-dives and wears red-red lipstick and does the talking for both of them. But three years later, Jude and Noah are barely speaking.
Something has happened to wreck the twins in different and dramatic ways . . until Jude meets a cocky, broken, beautiful boy, as well as someone else—an even more unpredictable new force in her life. The early years are Noah's story to tell. The later years are Jude's. What the twins don't realize is that they each have only half the story, and if they could just find their way back to one another, they'd have a chance to remake their world.
---
I have this wariness when it comes to YA novels that are marketed as "similar to John Green." But I'll talk about the why next time. The thing is, Jandy Nelson has created an incredible book that's totally her own.
I love the character development. The supporting characters were complex, not just parts of the twins' story. They had lives of their own before they entered into the lives of the twins. I was initially skeptical about how two POVs in two different time periods will work out. But it did, and splendidly.
Is it weird that I could relate to both of them? Because I am. With Jude, it's more obvious because, well, I'm a girl. And I've been sixteen some years ago (ha, I sound old). With Noah, it's more on his introversion and the way he thinks of artworks to describe what he's feeling. Loved that part.
I love Mrs. Sweetwine and her mysteriousness. But, surprisingly, I don't like Oscar that much just because I've read so many previous Oscars in other books. Charming yet commitment-phobe characters are definitely swoon-worthy but it's a tired formula, especially in YA romance.
What I didn't like in this novel is how the end was rushed. Everything seemed to end too well and loose ends tied too tight. There were also moments in the story when Oscar was some sort of deus ex machina; he was there exactly at the right time and you get that "hey wait a minute" feeling.
Nevertheless, I'll Give You The Sun was an amazing read. Personally, I think the magic of the book was how art became a huge part of it. Not just in the twins' careers as artists or the purple proses the author used but also in dealing with life itself. If you want to read YA novels with a balanced combination of light and heavy, I point this book. Also, did I mention the art?